Introduction
There's no battle to end all battles in this industry but there's no point either trying to reason with two deadly droids, armed with the latest technology. We have two of the season's hottest smartphones in combat mode and Android supremacy is the prize. The HTC One X and the Samsung Galaxy S III are cast in the same mold and stand at the pinnacle of Android revolution. Two big, scary droids and room for only one.
The two flagships have a lot in common - both run heavily customized ICS on quad-core CPUs and pack huge 720p displays. There's more to these droids though - each tries to squeeze every drop of known technology for a feature set that goes way beyond what vanilla Android has to offer. The HTC One X has the advantage of a market headstart, impressing users with its build and finish, latest Sense UI and the ImageSense technology of its camera.
The delayed launch of the Galaxy S III seems to have let Samsung make sure their flagship can match the functionality of the One X down to the last spec - and even raise the ante.
Here's a quick glance at what each phone has in its favor:
HTC One X over Samsung Galaxy S III
Impressive polycarbonate unibody
Brighter IPS LCD2 screen with a full set of subpixels
Beats Audio
Already on the market
Likely a bit cheaper
Samsung Galaxy S III over HTC One X
Bigger screen - 4.8" over 4.7"
Higher display contrast and better sunlight legibility
More storage options - 16/32/64GB + microSD over non-expandable 32GB
S Voice natural language commands and dictation
S Beam for easy and fast file transfers
User-accessible 2100mAh battery over non-removable 1800mAh battery
1.9MP front-facing camera with Smart Stay
We've reviewed the HTC One X and did a couple of previews of the Samsung Galaxy S III, so we know both phones fairly well. But it's still hard to pick a definite winner. Both are excellent phones, but there are tradeoffs to be made. For one, the polycarbonate body of the One X looks and feels cooler, but it locks away the battery and precludes memory expansion.
Many of the Galaxy S III advantages are software-related (S Voice, Smart stay, etc.) or narrow wins in terms of hardware (screen size, thickness). And it even gets more complicated with things like battery life. Sure, the S III has a bigger battery (2100mAh), but the Exynos chipset lacks the extra power-saving core of Tegra 3.
We have a feeling it's going to be a close call at the end and the subtle differences between these two flagships will endear them to slightly different target audiences. Let's dig into the details and see which one's for you.
Hardware overview
The HTC One X and Samsung Galaxy S III are nearly identical as far as physical dimensions go. They're not that hard to tell apart but share the same design philosophy. In short, bigger is better.
The One X stands at 134.4 x 69.9, while the Galaxy S III is just a bit bigger at 136.6 x 70.6mm. Of course, the S III's slightly larger screen accounts for the difference.
As far as thickness goes, the Galaxy S III is a little thinner than the One X. That kind of difference has more to do with bragging rights than anything else, it's statistical rather than practical. The phones weigh 130g (One X) and 133g (S III) respectively, but again, it's nothing you can actually feel.
The feel in hand however is different enough, never mind the similar size and weight.
The HTC One X is encased in a polycarbonate unibody (Gray or Black), which is matte in appearance and pleasant to the touch. The Samsung Galaxy S III is covered in glossy plastic (with Blue brushed metal look or pure white), which is durable, but not quite as nice to hold. We're not impressed by its looks either.
On the other hand, Samsung's design allows you to change the battery allowig you to use a spare one to extend battery life or replace an old burnt-out battery with a fresh new one. Oh, and there's a microSD card slot too. Not that HTC couldn't have put a card slot into the One X, they just decided that 32GB should be enough for everyone (and it probably is).




Removing the battery and accessing the microSIM and microSD card slots on the S III • Changing the SIM on the One X
Samsung does have a bigger battery, but we'll get back to battery backup later. As we already noted, the HTC does have a power-saving fifth core up its sleeve.
The One X has a set of pogo pins which enable dock connectivity without having to plug in a USB cable. The Galaxy S III on the other hand supports an optional wireless charging kit (which won't be available before September).
The rest of the hardware choices made by the two makers aren't very different - both phones use microSIM cards, they both have slightly bulging cameras at the back with an LED flash and both rely on a MHL-enabled microUSB port for charging, data, TV-Out and USB OTG.
Where they do differ is the hardware controls - Samsung equipped the Galaxy S III with a hardware Home key and capacitive Menu and Back keys. HTC on the other hand went all capacitive and emulated the Android ICS keys instead - Home, Back and Task switcher.
This means that the S III offers a more familiar experience, while the One X can be used the way Ice Cream Sandwich was meant to be used. But both phones feature extensive modifications to the interface, so the experience is unlike that of any other maker.
Display comparison
The Samsung Galaxy S III and the HTC One X both blow through what was until recently, the commonly accepted definition of a big smartphone screen. The bezel around the screen is minimal, so the phones are about as compact as they can be given the screen size.
But we digress. It's time to talk about quality - and just the screens. The Samsung Galaxy S III packs a 4.8" Super AMOLED screen of 720p resolution, while the HTC One X uses a 4.7" IPS LCD2 screen of 720p resolution.
The pixel density is virtually identical - 306ppi vs. 312ppi - but if you consider the subpixel density - 612 vs. 936 - the difference seems bigger. The reason for that is Super AMOLED technology uses a PenTile matrix with two - not three - subpixels per pixel.
Still, both densities are high enough that you won't notice in regular usage. You can see slight jaggines on finer detail displayed on the S III screen but you have to look from extremely close range and quite carefully at that.
The difference in display types goes beyond the subpixel arrangement. Super AMOLED has very deep blacks, vibrant colors and excellent viewing angles. There's some color shift when you reach the extremes, but the icons and text remain almost perfectly clear. Samsung's software also allows you to adjust the saturation - you get to choose from four levels of saturation raging from super punchy to slightly toned down.
The One X's IPS LCD2 screen is about 66% brighter than the opposition. It has excellent color rendering and viewing angles. The blacks aren't quite as deep as what the AMOLED has to offer, but the contrast ratio is high enough to make this almost a non-issue.
Display test
50% brightness
100% brightness
Black, cd/m2
White, cd/m2
Contrast ratio
Black, cd/m2
White, cd/m2
Contrast ratio
Samsung Galaxy Nexus
0
112
∞
0
247
∞
Samsung I9300 Galaxy S III
0
174
∞
0
330
∞
HTC One X
0.15
200
1375
0.39
550
1410
Sony Xperia S
-
-
-
0.48
495
1038
Motorola RAZR XT910
0
215
∞
0
361
∞
Samsung I9100 Galaxy S II
0
231
∞
0
362
∞
HTC One S
0
177
∞
0
386
∞
Samsung Galaxy Note
0
287
∞
0
429
∞
HTC Sensation XE
0.23
172
761
0.64
484
752
Another area where the screens differ is sunlight legibility - the HTC One X is very good for an LCD and the excellent brightness contributes to that, but the non-reflectivity of the AMOLED screen gives the Samsung Galaxy S III the edge. In fact, the Galaxy S III emerges from our tests as the best outdoor performer we have seen to date.
Contrast ratio
Samsung I9300 Galaxy S III

3.419

HTC One X

2.158

Nokia Asha 302

1.537

Apple iPhone 4

2.016

Apple iPhone 4S

2.269

Gigabyte GSmart G1355

1.361

HTC One S

2.901

HTC One V

1.685

LG Optimus 3D

1.542

Meizu MX

1.221

Nokia N8

2.144

Nokia N9

3.069

Samsung Galaxy Note

2.970

Samsung Galaxy S

3.155

Samsung Galaxy S II

2.832

Samsung Omnia W

3.301

Sony Ericsson Xperia ray

1.955
Both Samsung and HTC have turned to Corning to keep their lustrous screens safe. But the Galaxy S III uses second-gen Gorilla Glass while the One X sticks with the original. According to Corning, Glass 2 offers the same level of protection, though it's slimmer (this could be perhaps why the Galaxy S III is 0.3mm slimmer than the One X?).
Software and features
HTC have always received credit for their Sense UI, which has emerged, deservedly, as the standard-setting custom skin for Android. We were duly impressed with the One X in our review and called it the best smartphone experience to date - in terms of both visuals and features.
Samsung's flagship, on the other hand, is late to the market but the Koreans turned the delay in their favor. Instead of rushing their most important device to launch, they took the time to respond to every advantage the opposition had to offer.
To be fair, Samsung's TouchWiz did need to catch up with the HTC Sense in some departments and the new lockscreen on the Galaxy S III is a prime example. Not only is it visually appealing, it matches all the functionality of its Sense counterpart and goes even further. The new tap-to-hold-and-rotate-landscape routine that unlocks the phone and starts the camera isn't something you'd use daily but it's there to show that Samsung would not settle for second-best.
As for the rest, these are two Ice-cream Sandwich packages that are very similar in terms of core functionality. Even some of the added features are the same, like the Apt-X audio codec for high-quality stereo sound over Bluetooth. The burst shot, HDR and the ability to simultaneously take photos and videos are available in both smartphones too. So is the wireless HDMI connectivity (Samsung AllShare Cast & HTC Media Link HD).
Both the One X and the Galaxy S III offer free extension to your Dropbox storage, 25GB by HTC and 50GB by Samsung (both over 2 years).
Normally, the software comparison would've boiled down to deciding between Sense and TouchWiz but Samsung are tipping the scales in their favor with an impressive set of extra features, some of which are exclusive to the Galaxy S III.
Of course, not all of them are deciders. The S-Voice is a direct take on Siri, but it really fails to live up to expectations, while the NFC-based media sharing over S Beam has limited application for now. Pop-up play will rarely be used while Buddy photo share borders on useless. For more details on these added features you can check out our dedicated
Galaxy S III preview
.
The ones we're most impressed with are Smart Stay and Direct call. Direct Call lets you dial a number by lifting the phone up to your ear while browsing contacts or reading/composing a message.
Smart stay uses the front camera (most likely) to detect whether you're looking at the screen before switching to standby. You no longer have to worry about the screen dimming or shutting off when you're right in the middle of something.
There are some new gesture controls too, while all the HTC One X has to offer in terms of added features is Beats Audio. Of course, when it comes to the core ICS functionality, the two phones have everything a flagship needs to have. The Galaxy S III is way ahead in terms of extra add-ons but these features may not be equally relevant to all users. What everybody cares about is performance, so let's move on to our benchmarks.
Synthetic benchmarks
Benchmark Pi is a simple single-threaded benchmark, so we thought we knew what we can expect from it. Yet, the Galaxy S III got pretty much the same result as the HTC One X and even though its 4 Cortex-A9 cores are clocked 100MHz lower than those of the HTC top dog. The Krait cores powering the HTC One S take the top spot though.
Benchmark Pi
Lower is better
HTC One S

306

HTC One X

338

Samsung Galaxy S III

344

Samsung Galaxy Note 10.1

351

Samsung Galaxy Nexus

408

Samsung Galaxy S II

452

Sony Xperia S

536

HTC Sensation XE

583
Linpack offers multithreaded benchmarking, making it essential for testing quad-core beasts. The Samsung Galaxy S III managed to beat the One X by a pretty comfortable margin - about 40%. The One S once again comes out on top, with a 19% lead on the S III.
The benchmark had some issues with Ice Cream Sandwich, so what we're seeing here might be due to Samsung's software getting along with Linpack better.
Linpack
Higher is better
HTC One S

210

Samsung Galaxy S III

177.1

HTC One X

126.1

Samsung Galaxy Note 10.1

90

Sony Xperia S

86.4

Samsung Galaxy S II

77.6

Samsung Galaxy Nexus

77.1

HTC Sensation XE

50.4
Quadrant is a composite benchmark (it tests CPU, GPU and I/O). The Galaxy S III easily got the top score here, having a nice lead over the HTC One X in terms of general performance, with the One S splitting the difference.
Quadrant
Higher is better
Samsung Galaxy S III

5365

HTC One S

5047

HTC One X

4842

Samsung Galaxy Note

3531

Sony Xperia S

3173

Samsung Galaxy S II

3053

Samsung Galaxy Nexus

2316
The Samsung Galaxy S III relies on a Mali-400MP GPU, though the exact details (number of cores, clock speed, etc.) are still to be revealed. The One X has an NVIDIA GPU and both have to push the exact same number of pixels.
The Galaxy S III shows the best 3D performance of a droid phone yet, with an 11fps lead over the HTC One X. The One S is slightly ahead but it only has a qHD screen.
Note that older Samsung models used to have a 60fps framerate maximum set in software and we're not sure yet if the Galaxy S III is running into such a limit, artificially lowering its score (NenaMark reports the results in FPS). Let's see what GLBenchmark has to say.
NenaMark 2
Higher is better
HTC One S

60.5

Samsung Galaxy S III

58.8

Samsung Galaxy S II

51.6

HTC One X

47.5

Samsung Galaxy Note 10.1

43.6

Sony Xperia S

37.5

Samsung Galaxy Nexus

24

HTC Sensation XE

23
We're using the Egypt test in offscreen 720p mode so that results are directly comparable even though some devices have physical screen resolutions different from 720p.
The Samsung Galaxy S III cements its lead, with a whopping 40fps more than the HTC One X. The One X offers the very playable 63fps, but heavier games will push it below the 30fps mark sooner than they do the S III.
GLBenchmark Egypt (offscreen 720p)
Higher is better
New Apple iPad

140

Samsung Galaxy S III

103

Apple iPad 2

90

Apple iPhone 4S

73

HTC One X

63

Samsung Galaxy S II

62

HTC One S

56
SunSpider is a JavaScript benchmark that doesn't care much about the number of CPU cores, but is strongly affected by how optimized the JavaScript engine is and the raw performance of a core.
Samsung have done an excellent job here, showing a large improvement over the Galaxy S II with ICS (more than the difference in clock speed would suggest) and beating the two HTC One phones, which score about the same despite the big difference in single-core performance.
SunSpider
Lower is better
Samsung Galaxy S III

1447

HTC One S

1708

New Apple iPad

1722

HTC One X

1757

Samsung Galaxy S II

1849

Samsung Galaxy Nexus

1863

Samsung Galaxy Note 10.1

1891

Apple iPhone 4S

2217

Sony Xperia S

2587

HTC Sensation XE

4404
BrowserMark adds HTML to the equation - behind the scenes JavaScript computation won't do much if the web page can't update fast and smooth. The Galaxy S III tops this chart as well, and quite comfortably at that, with an impressive 75% lead on the One X.
BrowserMark
Higher is better
Samsung Galaxy S III

169811

Samsung Galaxy Note 10.1

113256

Samsung Galaxy S II

111853

Samsung Galaxy Nexus

103591

New Apple iPad

103264

HTC One S

98435

HTC One X

96803

Apple iPhone 4S

88725

Sony Xperia S

74990

HTC Sensation XE

72498
Camera interfaces
When comparing the camera app interfaces on the Samsung Galaxy S III and the HTC One X one can really observe two different approaches that stem away from stock Android. The TouchWiz camera UI found on the Samsung Galaxy S III is customizable and fairly intuitive to use. While the ImageSense camera suite found on HTC's One series is a unified UI for both the camera and the camcorder.
With the Samsung Galaxy S III you get two shortcut bars on each side of the viewfinder - on the right you get the still camera / camcorder switch, virtual shutter key and the gallery shortcut (which is a thumbnail of the last photo taken).
On the left you get several controls and the good news is that you can pick any five shortcuts to put there - you can easily put all commonly used features just a tap away.
We like the look on the HTC One X - the right-hand side features the Effects button, shutter key, camcorder record key and a shortcut to the gallery that shows the last photo taken. On the left is the flash setting toggle, general settings and shot mode (we'll get back to that in a moment).
Both apps offer simultaneous video and image capture, meaning that once you've started recording a clip you also get an on-screen shutter that enables image capture. The produced results are in full 8 MP resolution but with an aspect ratio of 16:9, instead of 4:3, to match the video's aspect.
Both devices also offer Burst mode - just hold the virtual shutter and the device will start snapping away at around 3 fps at full 8 MP resolution. The difference here is that the HTC One X snaps shots until you hold the button and then lets you choose which to keep while the Galaxy S III shoots up to 20 photos and automatically stores all of them in your gallery.
We like what effects HTC have implemented into ImageSense, you get lots of Instagram-like options like Vignette, Blur, etc. while the Galaxy S III is limited to just Sepia, Black and White and Negative. There are tons of apps in the Android Market for adding various effects to your photos but to have it all in the main app is way better.
Image quality
Both the Samsung Galaxy S III and the HTC One X feature 8 MP snappers that are capable of 3264x2448 photos. Both feature single LED flashes on the back and due to their zippy processors both offer 1080p and 720p video capture with simultaneous image capture. The lens used in the Galaxy S III is slightly wider allowing you to fit more in your frames, compared to the One X.
So let's dive right into the image quality. You'll notice that the weather wasn't identical for the two contenders, but lighting conditions were similar enough to make the images comparable.
We added the Galaxy S II to the first round of tests for good measure. As you can see from the crops, in good lighting the Galaxy S III tends to produce images with more detail than both its predecessor and the HTC One X.
The processing algorithm of the new Samsung flagship is much more mature, too - it introduces very few oversharpening artifacts and loses little detail, while still managing to keep the noise under control. The One X on the other hand is a bit too aggressive with the sharpening and isn't doing nearly as good a job of removing the noise.
Both contestants tend to oversaturate colors (particularly green), but the Galaxy S III comes a little to reality.
And there go a couple of more shots, which tell a similar story. Differences aren't huge, but the Galaxy S III still has an edge.
We also tested the photos that the One X and the Galaxy S III captured, while recording video. They are captured in 16:9 aspect ratio and have 6 megapixel resolution.
It's interesting to note that the HTC One X frames pictures differently from the video so you always end up with a result with a wider field of view. So if you've framed your video just right and think what you see is what you'll get you'd be wrong. The Galaxy S III in-video shots on have the same framing as the video.
In good light, the two smartphones resolve about the same amount of detail here, but the One X has better contrast and it sharpens its images more aggressively, which makes its output look punchier. The Galaxy S III still has slightly better color reproduction, though.
Things get vastly different in low light, when the bright F/2.0 optics of One X count big time. In such conditions the HTC flagship crushes its opponent, producing images with far less noise and much better contrast.
Most devices out there offer HDR mode straight out of the camera app and so do the Galaxy S III and HTC One X. The approach on the One X produces more dramatic looking results, while the Galaxy S III has a pretty subtle approach. Which solution is better is strictly a matter of personal preference, but the Galaxy S III does resolve more detail and its highlights aren't as exaggerated.
We've prepared a couple of macro samples. Things are extremely close here with the two smartphones trading blows from shot to shot.
Photo quality comparison
We've entered the Samsung Galaxy S III and HTC One X into our Photo comparison tool. The tool's page will give you the full details and it's where you can make the most comprehensive observations on the snappers involved in this shootout.
The Galaxy S III uses its resolution advantage to easily outdo the HTC One X in the first two charts. The two are much more evenly matched on the last studio challenge, but the S III shot has far less noise there.
Video quality
We were pleased with the video capture on the HTC One X. But the Galaxy S III is just too good to compete with - the resolved detail in the Galaxy S III videos is incredible and they are very smooth with accurate colors.
Here's the Galaxy S III 1080p FullHD sample.
And the One X 1080p video sample.
There's also the bitrate to take into account. The HTC One X videos come out with a relatively low bitrate of about 10 Mbps, while the Galaxy S III clips however around the 17 Mbps mark. Both devices offer stereo sound recording during capture. Below we've lined up 720p video samples with each of the devices.
The lower bitrate is evident here as well. At 6Mbps the One X videos have about half the bitrate of those captured with the Galaxy S III.
Overall, it's hard to see beyond the Samsung I9300 Galaxy S III for the winner in the video recording category. The One X produces decent clips, but those are nowhere near the S III standard.
Video quality comparison
The Video quality compare tool is where you can observe how each of our contenders handles change in lighting conditions, what actual resolution they achieve in FullHD recording and what levels of detail come out.
The Galaxy S III has clear resolution advantage in both the good light and the resolution chart frames. However, if you look at the low light video frames, you'll notice that the HTC One X once again puts its fast lens to good use and scores a point.
Loudspeaker performance
We put the Samsung I9300 Galaxy S III and the HTC One X side by side in our loudspeaker performance test. The Galaxy S III comes on top with a better all-round mark (Good) while the One X got an Average.
When playing a vocal tune the Galaxy S III is way ahead and it's slightly louder when reproducing pink noise, too. Keep in mind that if you're using ringtones, which mimic a retro phone the One X and Galaxy S III are almost on par.
| | | | | |
| --- | --- | --- | --- | --- |
| Speakerphone test | Voice, dB | Pink noise/ Music, dB | Ringing phone, dB | Overal score |
| HTC One X | 65.1 | 66.0 | 75.8 | Average |
| Samsung I9300 Galaxy S III | 75.1 | 66.5 | 75.0 | Good |
Audio quality
The Samsung I9300 Galaxy s III turned out to be one of the most talented musicians around and managed to edge out the One X in the audio output quality test.
The two have almost identical volume levels when connected to active external amplifiers, but the Galaxy S III has much cleaner output with no weak points whatsoever. The One X on the other hand has higher than average distortion levels, which is rare to be seen in a high-end smartphone.
Things were a bit closer when we plugged in a pair of headphones. The Galaxy S III still got the better results on most parts of the test, but at least the One X managed to score a point with its lower stereo crosstalk. It's not enough to prevent this round from going in favor of the Samsung flagship, though.
| | | | | | | |
| --- | --- | --- | --- | --- | --- | --- |
| Test | Frequency response | Noise level | Dynamic range | THD | IMD + Noise | Stereo crosstalk |
| Samsung I9300 Galaxy S III | +0.03, -0.05 | -90.3 | 90.3 | 0.012 | 0.018 | -92.6 |
| Samsung I9300 Galaxy S III (headphones attached) | +0.11, -0.04 | -90.2 | 90.2 | 0.0092 | 0.090 | -53.1 |
| HTC One X | +0.02, -0.08 | -82.1 | 82.1 | 0.137 | 0.393 | -80.7 |
| HTC One X (headphones attached) | +0.10, -0.10 | -80.6 | 80.6 | 0.174 | 0.459 | -60.8 |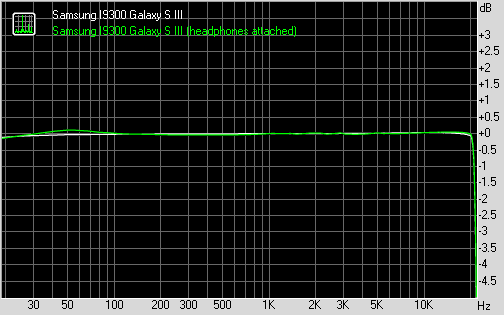 Samsung I9300 Galaxy S III frequency response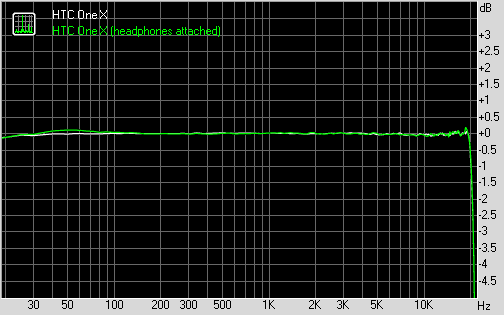 HTC One X frequency response
You can learn more about the whole testing process
here
.
Battery life
A quad-core chipset and a 4-something-inch HD display doesn't exactly sound like a recipe for great battery life, but our contestants have prepared pretty well. The HTC One X comes with a pretty large 1800 mAh battery, while the Galaxy S III comes with an even more impressive 2100 mAh power pack.
We were curious to find if the extra 300 mAh inside the Galaxy S III can compensate for its slightly larger screen and the lack of a low-power CPU core in its chipset.
As usual we started with the 3G talk time and we saw both participants put up a great performance. With the large power-hungry screens out of the equation, the beasts kept going for quite a while. The One X lasted for 9 hours and 57 minutes of telephony on a single charge, while the Galaxy S III managed the hard to believe 10 hours and 20 minutes.
Talk time
Samsung I9300 Galaxy S III

10:20

HTC One X

9:57
The two flagships were less convincing in the browser endurance test. The HTC One X shut down just 4 hours and 18 minutes into the test and the Galaxy S III went on for 5 hours and 17 minutes. We were actually rather surprised that the S III came out on top here, knowing how badly the predominantly white web pages treat AMOLEDs.
Web browsing
Samsung I9300 Galaxy S III

5:17

HTC One X

4:18
The HTC One X suffered a humiliating defeat in the video playback part of our test. The Galaxy S III put the superior power efficiency of its screen to great use here and required a minute over 10 hours to deplete 90% of its battery. The HTC One X, on the other hand, gave up after less than 6 hours of SD playback.
Video playback
Samsung I9300 Galaxy S III

10:01

HTC One X

5:45
Unsurprisingly, the final results favored the Samsung smartphone. The Galaxy S III got an endurance rating of 43h, suggesting that it will last for 6 hours per charge longer than its rival if you use it for an hour of talk time, web browsing and video playback per day.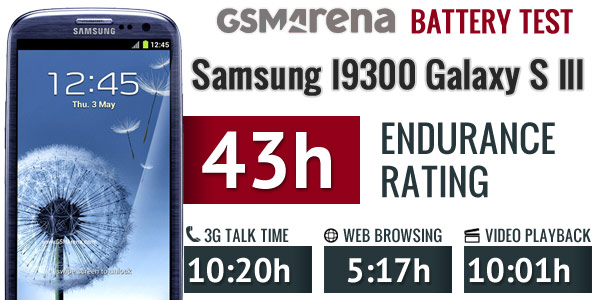 Samsung I9300 Galaxy S III battery life test results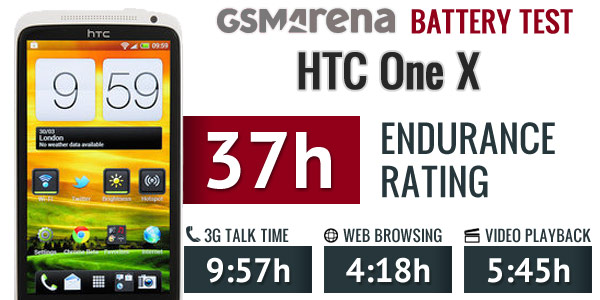 HTC One X battery life test results
You can learn more about our testing procedure
over here
.
Final words
There's no good story without a villain. No villains here though because this isn't just another story. It rather is Android history being made. And we don't fool ourselves - both these superphones will be history next year, in the less dignified sense.
What we are trying to say is, there's no better smartphone here - just one that's more suited to your needs and taste. There's always an element of compromise - be it size against screen estate, power against battery life or looks against durability. What monster smartphones like the Samsung Galaxy S III and the HTC One X try to do is rule out compromises. That's why manufacturers don't cut any corners making them.
The Samsung Galaxy S III has a slight edge in processing, the Mali-400MP GPU nosing out the HTC One X ULP GeForce. It's also the one with the better screen: the 4.8" Super AMOLED has superior contrast, viewing angles, sunlight legibility and, thanks to the screen saturation modes, greater flexibility. It does use a PenTile matrix, but it hardly makes any difference at those ppi levels.
The still camera and video recording (in good lighting) and audio quality tests win a few more points for the Samsung I9300 Galaxy S III, and so do the better battery life and expandable storage.
Finally, Samsung have managed to teach their top dog plenty of neat software tricks and while some of them are rather useless (technology still hasn't reached the point where voice assistants are actually good for more than a few laughs), others are pretty cool (we really loved the Direct Call and Smart Stay features).
Yet the HTC One X is not without its weapons in this fight. For one, it's the better looking smartphone - we don't agree with those that call the Galaxy S III ugly, but its hyperglazed plastic body is humbled to near depressing levels of ordinary by the One X's matte polycarbonate unibody. It also comes with more built-in storage without raising the price (in fact the One X is a bit cheaper than the S III pre-orders).
The HTC One X camera actually comes out as the better performer in low-light conditions thanks to its bright F/2.0 aperture. We mustn't forget either that the HTC flagship is already available in plenty of countries, while the Samsung Galaxy S III units will only start leaving the factory in Gumi in a couple of weeks' time.
And then there's the choice between TouchWiz and Sense UI, which is a matter of aesthetics than anything else.
Anyway, back to where we started. Two superphones, one Android crown. The HTC One X managed to come to the market first, while the Galaxy S III is a little late, but has plenty to show for it. We're tempted to play it safe and split it equal. The HTC One X: this is what a droid flagship should look like. The Samsung Galaxy S III: that's what a droid flagship should perform like. But that won't be fair to either of them. They didn't get where they are by playing it safe.
It seems obvious that the Samsung Galaxy S III wouldn't have raised as the new standard-setter without a powerful challenger like the One X. There's no consolation prize here, no second-best. A fair fight and a win-win for Android.